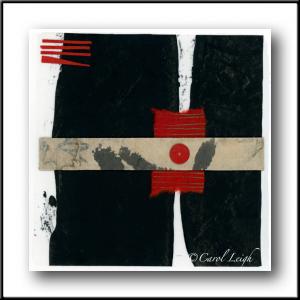 A smart artist will create a series of works, images that "go" together, work well together, that are different enough to stand on their own, yet can be placed on a wall or in a room together.

Smart artists do this to encourage multiple sales. Decorators and designers take advantage of works in series to create a cohesive look throughout a residence, an office, a hospital, etc.

I'm not consistently smart enough to remember to do this! I make something, it's done, and I move on.

That wasn't the case here, however. I began with some very thin, flat "beads" a friend gave me. Rather than create one large collage that incorporated maybe three beads, I made three separate smaller collages.

You can see all three here in this little gallery:
https://carol-leigh.pixels.com/collections/designer+series+red+black+and+white+collage

Thanks for looking.