January 2nd, 2019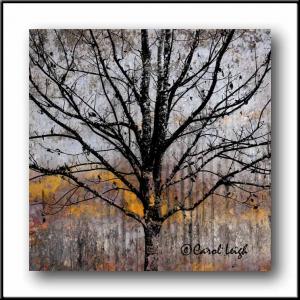 As I sit here this morning, reading about high winds hitting our island later today, I look back to this date ten years ago, when I was on the Oregon coast, having braved a similar, but stronger, storm. Here's what I wrote (10 years ago) about this picture:

"After a day of high (75mph) winds and a lot of rain (3"), I put together this photomontage of a bare tree on the Oregon coast and a couple of different pieces of rusty metal to come up with something reminiscent of the storm. What a way to begin the new year!"

Wishing you all a happy 2019!
May 21st, 2018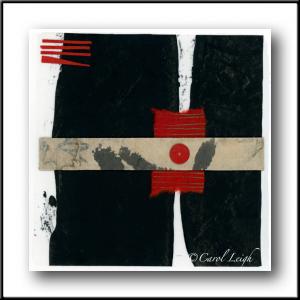 A smart artist will create a series of works, images that "go" together, work well together, that are different enough to stand on their own, yet can be placed on a wall or in a room together.

Smart artists do this to encourage multiple sales. Decorators and designers take advantage of works in series to create a cohesive look throughout a residence, an office, a hospital, etc.

I'm not consistently smart enough to remember to do this! I make something, it's done, and I move on.

That wasn't the case here, however. I began with some very thin, flat "beads" a friend gave me. Rather than create one large collage that incorporated maybe three beads, I made three separate smaller collages.

You can see all three here in this little gallery:
https://carol-leigh.pixels.com/collections/designer+series+red+black+and+white+collage

Thanks for looking.
January 2nd, 2018
We all love flowers, but . . .
We've seen so many pictures of them, from almost every photographer, that maybe we've become jaded.

An orange California poppy? Yawn.
A pink rose?
A sunflower?

Yeah, yeah, yeah. What else ya got?

When I was teaching photography, I did have my students shooting flowers. And one thing I emphasized was backgrounds, how the color and texture of a background can make a flower photo look dull or exciting.

Here is the same flower in front of three different backgrounds. The colors pop, each showcasing the flower in a different way.

I took this concept one step further for my final images, adding texture and a somewhat painterly look.

These ain't your grandma's flowers.
They're different enough to catch your eye, to make you stop, look, and linger.

These pictures make me happy.
And if they make you stop/look/linger, as an artist I'm even happier.

If you'd like to see my collection of colorful flowers, all done in this particular style, I invite you to visit my "Flowers -- Outrageous Colors" gallery here:

https://carol-leigh.pixels.com/collections/flowers+outrageous+colors

©Carol Leigh
All text, photographs, and other media are ©Copyright Carol Leigh (or others when indicated) and are not in the public domain and may not be used on websites, blogs, or in other media without advance permission from Carol Leigh.